Monday, 18 October 2021
High-end watchmaking focuses on unique tailor-made pieces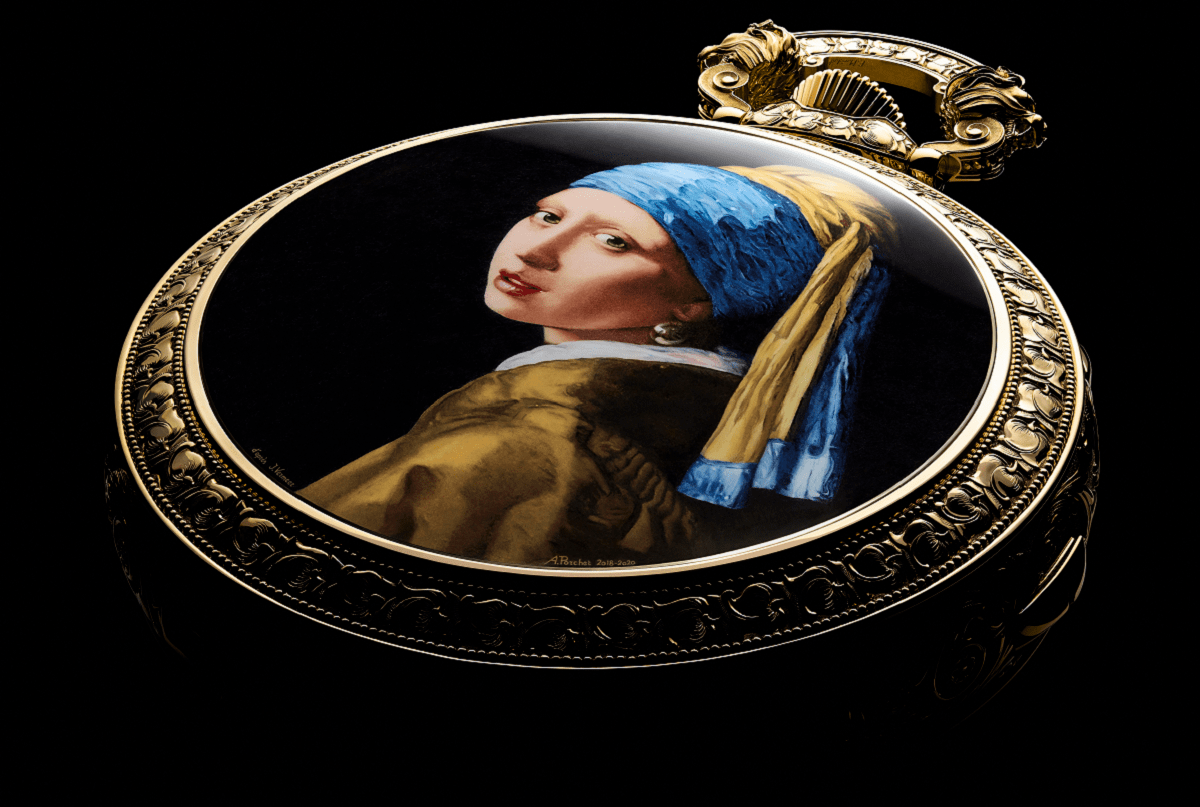 The Les Cabinotiers Sonnerie Westminster model, which Vacheron Constantin created as a tribute to Johannes Vermeer, consolidates the trend of the high-end market towards increasingly unique and tailor-made solutions.
Confirming this direction, this pocket watch is made by the Les Cabinotiers department according to the client's wishes. This masterpiece features a new Grande Sonnerie Westminster Manufacture movement, a 3761 calibre with a tourbillon regulator, an engraved case with a ring adorned with two hand-carved lion heads, a hinged lid and a miniature painted enamel representation by the enameller Anita Porchet and depicting the Girl with a Pearl Earring by Johannes Vermeer.
The Les Cabinotiers Sonnerie Westminster project, Homage to the Johannes Vermeer pocket watch, is a bespoke creation that combines with flair the watchmaking and craftsmanship savoir-faire of Vacheron Constantin. The watch, featuring a new Manufacture movement, was developed by the team of watchmakers who designed the Reference 57260 timepiece.
The craftsmanship that decorates this model is equally extraordinary. The case, hand-engraved on the bezel, back and sides using various craft techniques, is surmounted by a ring decorated with two hand-carved lion heads. The hinged back cover is embellished with a miniature reproduction on enamel, the work of the enameller Anita Porchet, which depicts the famous painting by Vermeer Girl with a pearl earring.
Les Cabinotiers is a separate department within the Vacheron Constantin Manufactory, dedicated to the production of limited editions of a single piece. In the footsteps of the Geneva watchmakers who in the eighteenth century were known as cabinotiers, the team took up the challenge of giving life to the dream of a passionate collector who wanted a technically and aesthetically exceptional pocket watch, in line with the noblest traditions of Haute Horlogerie. of the eighteenth century.
The result of over 266 years of experience and eight years of development, the Les Cabinotiers Sonnerie Westminster timepiece embodies art and beauty, exceptional mechanics and technical mastery. This creation satisfies the deepest expectations of a collector for whom "the passion consists in always looking for what is theoretically impossible to obtain"; an enthusiast whose love for one-offs is at the origin of this project, which required eight years of collaboration with Vacheron Constantin. An adventure full of challenges, research and exchanges, which gave birth to an authentic Haute Horlogerie masterpiece.
Federica Frosini, Editor in Chief VO+