Tuesday, 20 July 2021
High Jewelry 2021 Highlights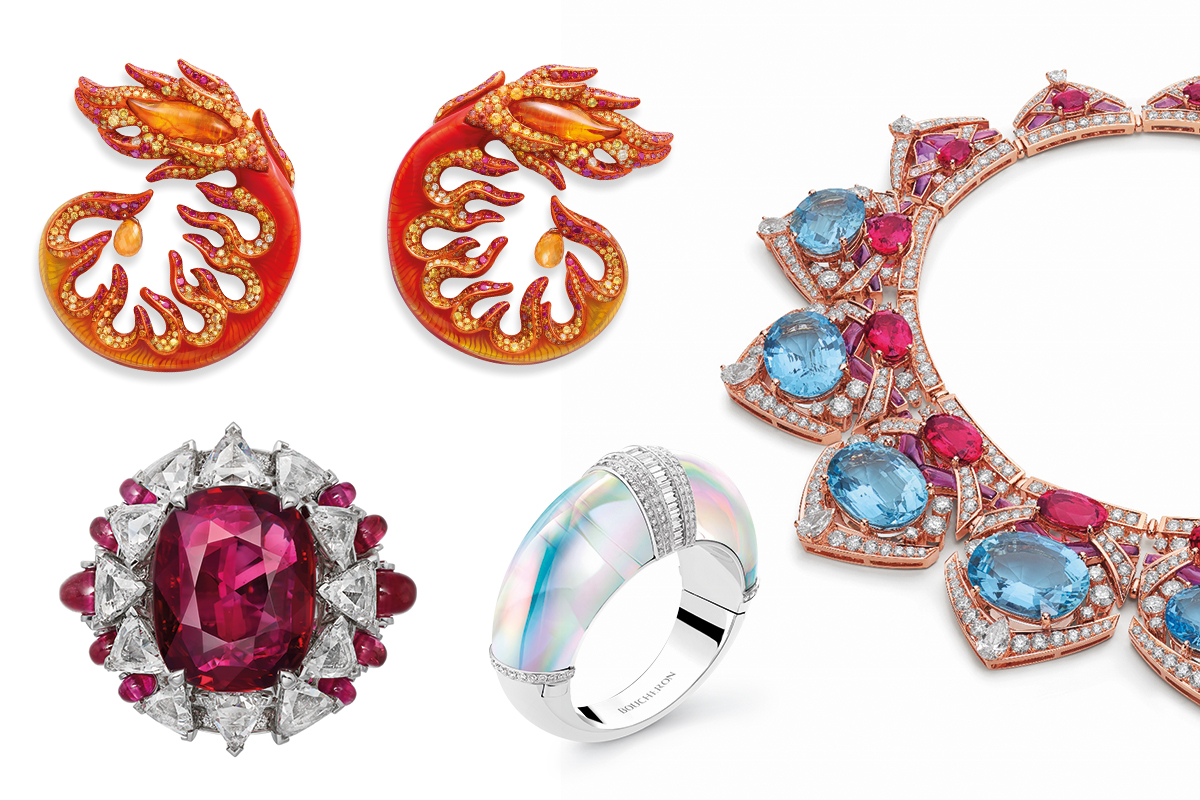 In July, the world of high jewelry is offering us a veritable spectacle with the launch of dreamy and surprising collections where savoir-faire and tradition, technology and experimentation merge in an ensemble of poetic creativity that enraptures. Chopard, Boucheron, Cartier and Bvlgari provide plentiful proof.
Paradise Red Carpet Collection, Chopard
Among Chopard's collections, Red Carpet is the one that expresses more than any other Caroline Scheufele's curious and lively creativity. While waiting to discover the seventy-four specimens that make up "Paradise" at the coming July Festival 2021, the Art Director gave us a preview: a kaleidoscope of samples with a Baroque and extravagant spirit, inspired by the lush nature of mythological locations.
Carte Blanche, Holographique, Boucheron
Holography plays the leading role in the Carte Blanche, Holographique collection. Inspired by the work on light and color by artist Olafur Eliasson and architect Luis Barragan, Claire Choisne, the company's Creative Director, has investigated into the power light wields in changing the surrounding environment. More precisely, that suspended, unexpected moment when a rainbow appears, evoking a sweet euphoria steeped in emotions. The nine sets and twenty-five unique pieces reveal this fleeting magic through opals with iridescent reliefs and materials like ceramic or rock crystal, dressed in metallic colors.
Sixième Sens Par Cartier
The jewelry items in the Sixième Sens collection were created to vibrate under the light and come to life on contact with the skin. Trompe-l'œil, games of graphic illusions and optical effects are just some of the techniques used to define every piece uniquely. Like the Phaan ring, which brandishes an 8.20 carat ruby in its center. Its architectonic character conceals a tiered structure that allows a 4.01 carat, rose-cut diamond to be inserted below the stone sitting triumphant on the top. When the light crosses the gem into the diamond, the bright red hue becomes even more intense.
Magnifica, Bvlgari
A study into spectacular gems characterizes the new collection from the Roman company, as the Color Legacy necklace proves by featuring an impressive and rhythmic composition of colored gems in surprising cuts and settings. Seven oval aquamarines for a total of almost 84 carats, are combined with 16 oval rubellites and 32 buff-top amethysts. 15 drop-cut diamonds, brilliant-cut diamonds and pavé complete its kaleidoscopic yet joyful beauty.
Antonella Reina, Editor VO+