Wednesday, 10 May 2017
UNIQUE AND RARE DIAMONDS TO FEATURE AT UPCOMING AUCTIONS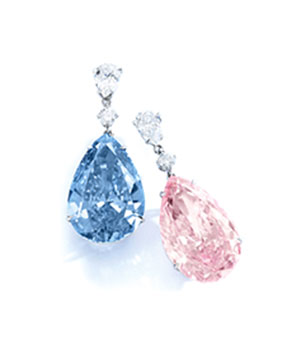 Upcoming auctions shall feature The Apollo Blue & The Artemis Pink, at Sotheby´s on 16th May, followed by Heart Shaped Diamonds at Christie´s on 17th May. Apollo and Artemis are a pair of earrings, each featuring a diamond, as a unique piece, in two different colours: "The Apollo Blue" is the earring in fancy vivid blue, accompanied by another earring featuring "The Artemis Pink", in fancy intense pink.
What renders them truly unique is that they can be considered as single jewellery pieces or as a pair featuring in a pair of earrings. Their names bear a clear reference to Ancient Greece: Apollo and Artemis were two much loved Greek divinities. Both divinities were siblings and blessed with great power and beauty. This is why they became Ancient Greek's most venerated deities.
The GIA, Gemological Institute of America, has valued The Apollo Blue as a 14.54 carat diamond. It weighs in as the largest ever vivid blue diamond to go under the hammer. The gemstone was cut to present a brilliantly coloured pear-shape. According to the GIA Apollo Blue is a type IIb diamond, a category to which a mere 1.5% of all diamonds belong. The diamond has already toured the world and it was previously placed on display at a Hong Kong based exhibition.
The Artemis Pink presents an intense pink colour: at 16 carats, Artemis has also been cut into a perfect pear shape, a perfect match for the Apollo. According to the GIA, Artemis is a IIa diamond, a selection of the world's most chemically pure diamonds, characterised by perfect optical transparency.
According to the Gemological Institute of America, only 3% of diamonds are classified as coloured, and of these, less than 5% present a pink colour, making The Artemis Pink very special and unique. In virtue of their unique characteristics, these earrings have been defined as the most important pair to ever go under the hammer. The Apollo Blue has been valued at between 38 and 50 million dollars and The Artemis Pink between 12.5 and 18 million dollars.
The 92.15 carat Heart Shaped Diamonds shall be auctioned suspended from a cultivated pearl sautoir in a piece called "La Légende" by the high jewellery company Boehmer et Bassenge. It has been valued between 14 and 20 million dollars. These promise to be truly unmissable auctions.