Thursday, 26 April 2018
Gold and jewellery: USA trends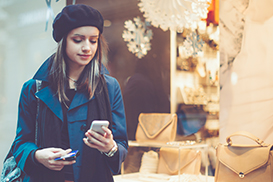 In 2017, the United States' jewellery market was worth 71 billion dollars: big numbers if you consider that an e-commerce site for jewellery sales topped the charts of the most visited sites for a whole month.
In recent years, in fact, the number of traditional jewellery stores in America has decreased by almost 1%, while on the other hand, in the last 5 years, sales in classic stores increased by 4% against an increase of up to 15% in jewellery sales through e-commerce.
The jewellery market trend in the US is therefore leaning towards on-line channels. And, to the same extent, ongoing demographic changes in America with the arrival of the Millennials, are changing jewellery buying models and dynamics. In fact, jewellery items are mainly purchased around Christmas, Valentine's Day and Mother's Day, while jewellery sales can be subdivided into diamonds for 50%, watches for 15% and up to 35% for other types of jewellery.
In terms of the "decisional process" linked to jewellery sales in America, 85% of purchases is for a family member, over 50% of buyers judge the retailer's reputation as important and the arrival of the iGeneration on the market (the generation after the Millennials) will bring an increase in on-line jewellery sales during the non-festive or anniversary periods, according to a buying model that will be similar to that of fashion and clothing.