Wednesday, 29 November 2017
Fope conveys the magic of Christmas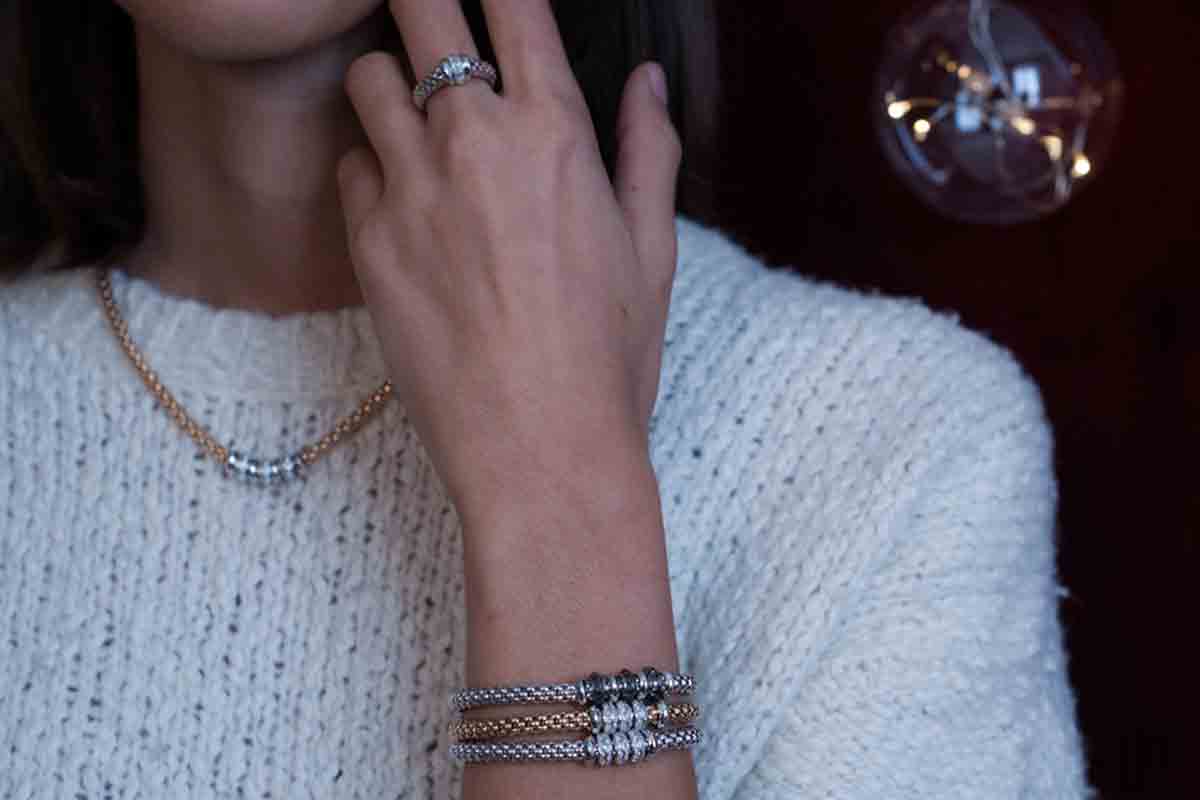 Christmas is magic, enchantment and surprise. Fope celebrates the most wonderful time of the year with a warm, cosy and joyful atmosphere on its website: www.fope.com.
The star role is played by Flex'it jewellery, produced by applying the brand's exclusive technology, with two flagship collections for Christmas 2017: Prima, a new fine and light collection. Its mesh chain has dozens of tiny 18 carat gold springs which make the bracelets and rings smooth and flexible. The full set also includes earrings and necklaces, either standard or with tassels. The dimensions of the new mesh demonstrate the technological excellence that FOPE workshops have achieved. Each item is perfect to wear, incredibly resistant and comfortable. Prima comes in two variations: soft, elliptical rondelles or small white gold details with diamonds, reminiscent of dew drops. Similar styles but different details whose volume, shapes and colours can be combined for subtly elegant results. And then there is the Solo collection which brings a new contemporary slant to Unica, the brand's best-selling range in the Nineties. The bracelet's gold mesh is now flexible, the proportions are slightly smaller than the thicker chains in fashion at that time and there are numerous new versions with gold loops, pearls and diamonds in a variety of carat sizes. The matching set also includes chokers, chain and tassel necklaces, earrings and rings. With a selection of white, yellow and pink gold, diamonds, natural stones, rondelle beads and a multitude of other variations, Solo is the perfect choice for anyone who loves colour. The bracelets, for example, are covered entirely in free-moving rondelle beads where the gold mesh is barely visible beneath stunning arrays of pink sapphires and diamonds, blue sapphires with white gold or even black and brown diamonds. Once again, the jewellery stands out for its understated elegance and inimitable character. To astound with a unique and valuable Christmas gift.
The Cazzola family founded the company in 1929, and since then Fope has demonstrated a considerable flair for experimentation and innovation and the more recent challenges, dictated by the company's international success and globalization have led to making some important decisions. One was to keep production in Vicenza but with substantial investment in terms of organizational processes and production line computerization.
Attention to detail is fundamental which is why the finished and approved items are placed in a transparent, vacuum-packed bag to ensure that the last thing they came into contact with was the packer's white gloves. Fope runs its business based on the rules of ethics, efficiency and respect and aims at encouraging all its staff and associates to adopt positive behaviour in order to constantly improve product quality and to appreciate each person individually and as part of a team.
To further support its commitment to corporate responsibility, in 2013 Fope was assessed by an accredited independent auditor and subsequently became a certified member of the Responsible Jewellery Council, the international non-profit organization which sets ethical standards for the entire jewellery production chain