Thursday, 26 April 2018
Fine and costume jewellery: a boom in the States!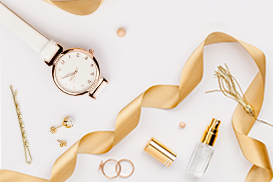 The Persistence Market Research institute recently issued a publication entitled "Costume Jewellery Market: US Industry Analysis and Forecast, 2010-2024" according to which, by the end of 2024, the US market for this type of jewellery will have reached revenues of more than 20 million dollars.
The study, which analyzed the fine and costume jewellery world, ascribes the dynamic growth of this market, which is currently worth about 13 million dollars and has effectively presented an unprecedented opportunity in the last two years, to several factors.
While on the one hand it is mainly investors and the big names in the sector that are benefitting the most, on the other, international fashion brands, like Chanel, Gianni Versace, Louis Vuitton or Gucci, are also key players in the market. Other important actors, particularly in the costume jewellery sector, are Pandora, Zara, Guess and LLC.
According to the report, this sector will continue to grow at a constant rate in the States thanks also to a significant boost from e-commerce and on-line distribution channels that strengthen business with solid economic growth opportunities.
What are the products to focus on? Earrings and rings are the key items in the sector with an estimated revenue of over 7 million dollars within 6 years as of today and, to equal measure, necklace and pendant sales in the United States, which are demonstrating an annual growth rate of 5.7%.
And if, as in fashion and showbiz, trends that bloom in the United States then tend to disembark in Europe, all that is left to do is to be prepared!