Wednesday, 29 November 2017
Antonini inaugurates its new showroom in Palazzo Borromeo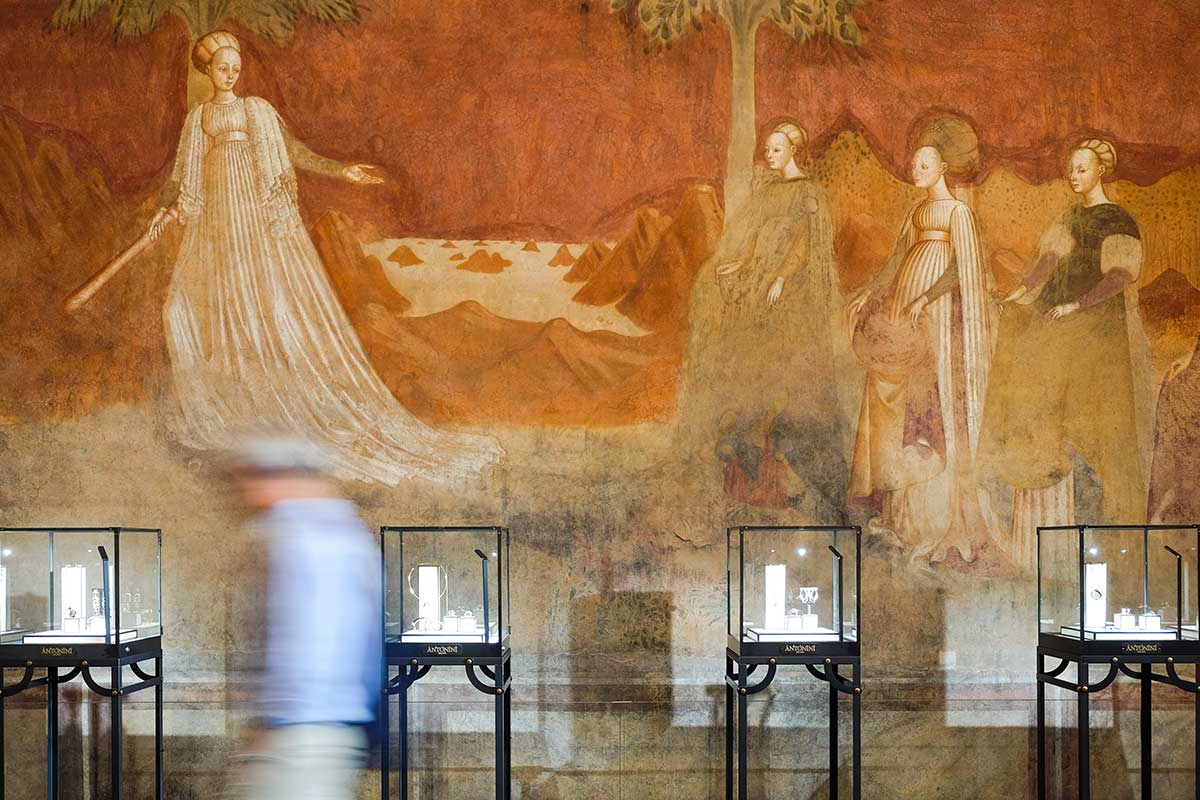 Antonini, a VICENZAORO exhibitor, inaugurates its new showroom inside the historical Palazzo Borromeo, opening a previously inaccessible, prestigious and elegant area to the public. The ancient building, located in the centre of Milan, was constructed at the end of the 13th century for the Borromeo family (still the current owners), which, also due to their good relationship with Duke Francesco Sforza, became one of the most important and influential families in the city. Like authentic works of art, Antonini jewellery is on display in the impressive Fresco Room painted by Michelino da Besozzo in 1400. The paintings depict courtly games like the ballgame and tarot cards. The exclusive Palazzo Borromeo setting enhances Antonini's offer, making it even more precious.
The items are all Italian made in Milan, the capital of fashion and design, and feature high quality workmanship and personality. From Milan towards the world, Antonini is a niche brand that expresses tasteful yet unpretentious luxury through precise craftsmanship, an aspect that distinguishes all its creations, and careful research into the use of the best stones and materials. Antonini, founded in Milan in 1919 as a highly reputable diamond and precious stone company, immediately became a "must have" for the sophisticated Milanese and Italian aristocracy. The third generation of this family-run business took over in 1989. After attending Design School at Milan Polytechnic and the Gemological Institute of America in New York, Sergio Antonini began his career as a designer of a new, high-range jewellery line, re-interpreting tradition with new designs.
In 1996, Antonini won the "Diamond International Award", the most coveted prize in the jewellery industry. In 2016, the company won the "Andrea Palladio International Jewellery Award" for "The Best Italian Jewellery Brand Collection" with its Siracusa collection. Trend-setter and the brand's Creative Director, Sergio Antonini continues to create extraordinary collections and unique pieces.
Extraordinaire is Antonini's haute couture jewellery line: a collection of unique items which is further enriched every year by new masterpieces destined for those who are on the lookout for an unusual product. Limited and certified creations, whose designs begin with the precious stones that Sergio Antonini personally selects according to their quality, colour and purity. An ad hoc design is devised for each stone in order to enhance its beauty and light: set in white gold and diamonds, emeralds and sapphires come to life thanks to the way in which the contemporary cut is mounted, intensifying the transparency and shapes. The result is an exclusive and unrepeatable item of high jewellery aimed at the most sophisticated and demanding Italian and international public. Stars like Selena Gomez, Halle Berry, Carrie Underwood, Anne Hathaway, Jennifer Lopez, Gigi Hadid and Taylor Swift wear Antonini on the red carpets.